http://s3r.news/ende-tymes-ix-takes-over-brooklyn-this-weekend/
Ende Tymes 9
Festival of Noise and Experimental Liberation
DATES:
6-8 April 2018
VENUE:
Silent Barn
603 Bushwick Ave
Brooklyn NY 11206
subway: J/M/Z to Myrtle-Broadway
http://silentbarn.org/
PERFORMANCES BY:
buffalo MRI (QC)
Calambre
CBN (NE)
Charmaine Lee
COMPACTOR
Compile
Dead Buddha
Eames & Cory
Envenomist (OH)
Eva Aguila (CA)
Fecalove (IT)
Filth (TX)
Fritz Welch (UK)
Gabie Strong (CA)
Guillermo Pizarro (PA)
Half Wire (NM)
Hoor-paar-Kraat
Jeremy Toussaint-Baptiste
JK Williams (WA)
Joachim Montessuis (FR)
Kimberly (TX)
The Kingston Family Singers (MO)
Lars Åkerlund (SE)
Latrines
Leila Bordreuil + Tamio Shiraishi
LoVid + Produce Consume Robot (NY)
Negation
New York Review of Cocksucking
Race to the Bottom (CA)
Reagan Holiday
Rectrix (RI)
Rubber (() Cement (CA)
Self Avoiding Walk
Sleeping with the Earth (OR)
Slow Owls (WI)
SOOT (CA)
Sunken Cheek (NY)
Tainted Pussy (CA)
Termagant (TX)
War Hippy (CA)
SCHEDULE

Friday April 6
7:30 PM pre-show junk metal drum corps :: homage to z'ev
8:00 PM Calambre
8:25 PM COMPACTOR
8:50 PM Eames & Cory
9:20 PM Hoor-paar-Kraat
9:45 PM Guillermo Pizarro (PA)
10:10 PM LoVid + Produce Consume Robot (NY)
10:35 PM Eva Aguila (CA)
11:00 PM Lars Åkerlund (SE)
11:35 PM Fritz Welch (UK)
12:00 AM Buffalo MRI (QC)
12:40 AM Wormwatcher
1:10 AM SOOT (CA)
1:50 AM Slow Owls (WI)
2:15 AM Negation
2:40 AM Latrines
3:00 AM ENDE

Saturday April 7
8:00 PM Dead Buddha
8:25 PM Sunken Cheek (NY)
8:50 PM CBN (NE)
9:15 PM Charmaine Lee
9:40 PM The Kingston Family Singers (MO)
10:15 PM Kimberly (TX)
10:40 PM Rubber (() Cement (CA)
11:10 PM Termagant (TX)
11:35 PM FILTH (TX)
12:00 AM Joachim Montessuis (FR)
12:30 AM Rectrix (RI)
1:05 AM Fecalove (IT)
1:35 AM Sleeping with the Earth (OR)
2:10 AM Tainted Pussy (CA)
2:40 AM War Hippy (CA)
3:00 AM ENDE

Sunday April 8
7:00 PM Self Avoiding Walk
7:30 PM New York Review of Cocksucking
7:50 PM Compile
8:15 PM Leila Bordreuil + Tamio Shiraishi
8:50 PM Gabie Strong (CA)
9:20 PM JK Williams (WA)
9:45 PM Half Wire (NM)
10:15 PM Race to the Bottom (CA)
10:50 PM Envenomist (OH)
11:20 PM Reagan Holiday
11:50 PM ENDE
TICKETS are $15-20/night, $45/weekend. individual night tickets will be available at the door
weekend passes are available here:
CREDIT CARDS use https://withfriends.co/event/184703/ende_tymes_festival_9

PAYPAL use this (be sure to include your name(s) for the door list!!!) https://paypal.me/endetymes/45
BONUS: ANYONE WHO BUYS A WEEKEND PASS GETS A FREE RECORD FROM ANARCHYMOON RECORDINGS - grab one at the fest!!! More info: http://halfnormal.com/anarchymoon/
DONATIONS:
FOR CREDIT CARD USERS, go to https://withfriends.co/ende_tymes/join

FOR PAYPAL USERS, send your money directly to us using the links below - PLEASE MAKE SURE you include your name(s) for the door list:
$80+ TOURMATES receive a weekend pass, a t-shirt, a koozie, and mp3 recordings of each set in the festival (approx 2 months afterwards), plus a bonus record (see above). use this link: https://paypal.me/endetymes/80
$160+ SICK SAINTS receive 2 weekend passes, 2 shirts, 2 koozies, the recordings, and invitations to the pre-show dinner (it's very elegant), plus a bonus record (see above). use this link: https://paypal.me/endetymes/160
$300+ MONSTER MESSIAH get whatever they want, plus a bonus record or two (see above). use this link: https://paypal.me/endetymes/300

SHWAG: available for pickup at the fest, or by mail - make sure you include your address!
t-shirts $20 + $5 shipping :: https://paypal.me/endetymes/25
koozies $7 + $3 shipping :: https://paypal.me/endetymes/10
audio recordings of the 2018 fest $25 :: https://paypal.me/endetymes/25
audio recordings of every Ende Tymes festival $60 :: https://paypal.me/endetymes/60


PRINTING SPONSOR: 
Festival printing by Forest Passage Printing - MANY THANKS
https://www.facebook.com/forestpassageprinting


LINKS: 

Ende Tymes homepage: http://halfnormal.com/endetymes

Fundraiser: https://withfriends.co/ende_tymes/join

Tickets: https://withfriends.co/event/184703/ ende_tymes_festival_9

FB event: https://www.facebook.com/ events/149270102424718/

FB homepage: https://www.facebook.com/ EndeTymesFestival/

Instagram: https://www.instagram.com/endetymes/

Twitter: https://twitter.com/EndeTymes
BIOS:
buffalo MRI (QC)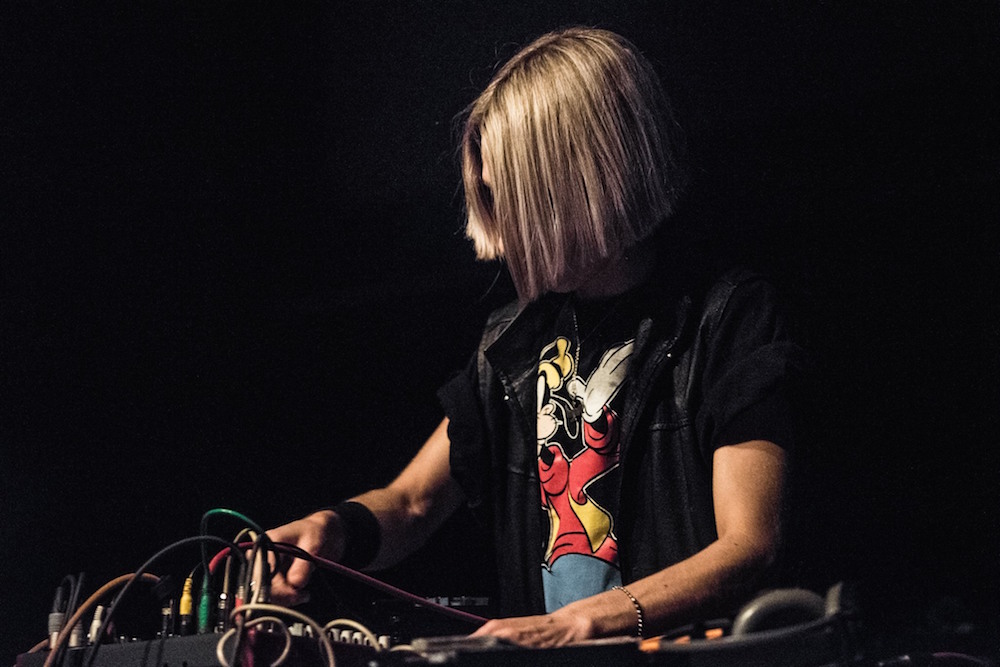 Driven to explore the meaning and value of sound and memory, buffalo MRI constructs avant compositions crafted from snippets of sound taken from audio cassette. Isolating these diverse fragments of audio detritus, field recordings and music, the end result is a musique concrète for the modern age. Alexander studied piano and music theory as a child and as a teenager she was exposed to the cut-up experimentalism of Brion Gysin. She began experimenting with a Walkman recorder, taking field recordings of places, people and music to create audio collages which eventually turned into an obsession. Having worked with Montréal collective Never Apart and also been a member of several avant-noise outfits such as Urlapse and Wasted Nymph she has also used the pseudonym Vera Brim. Through recontextualisation, repetition and juxtaposition her work forces the listener to reevaluate their relationship with familiar sounds in unfamiliar contexts. Timeless, transporting and wilfully wonky, her work is both academic and playful, running from unsettling, sparse soundscapes to rhythmic, looping avant-garde mayhem incorporating everything from detuned piano, spliced jungle beats, foley effects and spoken word. More info: https://www.nts.live/shows/mutek-2017/episodes/buffalo-mri-live-from-mutek-montreal-26th-august-2017
Calambre
Calambre is Federico Escalante. Originally from Montevideo Uruguay, currently based in Brooklyn, NY. Youtube:https://www.youtube.com/watch?v=V0eJ0uvztVE

CBN (NE)

Omaha Nebraska /Started 09-10/ solo project until 2017/Ghetto Beat/Sounds Ov The Streets/NNE (NebraskaNoiseElectronics). More info: http://www.westword.com/music/rocha-of-cbn-says-the-us-diy-scene-is-only-getting-stronger-8810422
Charmaine Lee
Charmaine Lee is an improvising vocalist from Sydney, Australia. Collaborators include Nate Wooley, Conrad Tao, Zach Rowden, Lester St. Louis, and Leila Bordreuil. She has performed at venues such as Roulette, ISSUE Project Room, the Stone, the Met Breuer, and Experimental Sound Studios (Chicago). Charmaine currently resides in New York. Photo by Peter Gannushkin. More info: https://charmaineleemusic.com/

COMPACTOR
COMPACTOR is an interconnected set of mostly obsolete machinery that is manipulated by an anonymous figure known as The Worker under orders from a faceless corporation. Industrial noise and other related sounds from the machinery are crushed into a soundtrack to the urban wasteland. Audio Work Documents have been licensed to Ohm Resistance, Low Noise Productions, Cryptic Carousel, Annihilvs Power Electronix, and others since 2011. The Village Voice called 2015's 'Slowdown' Best Noise Music in September and a track was one of The 36 Best Noise Tracks of the year. 2017 saw the release of a 60-minute tape in the Various Artists 8-hour industrial/noise box set No Workers Paradise. Released in time for Ende Tymes 2018 will be the 'Degradation' Cassette EP on Jouissance Du Rien and full-length CD 'Technology Worship' on Oppressive Resistance Recordings. More info: http://www.wastemgt.info

Compile
Compile is a globally based multimedia outlet. Its lineup is always changing and moving, but will feature 3 of its core New York-based members for this performance. Compile deals with communication, crafting obscured,
often outlandish narratives from media found littered at the poles of the networked realm. "What remains of people is what media can store and communicate." More info: https://soundcloud.com/compile-now
Dead Buddha
drone noise sludge by Bob Bellerue and friends. More info: http://bobbellerue.net

Eames & Cory
Eames & Cory make dark and low sound and actions. Loops of percussive confusion, haunted electronic drones, and frenetic digital gestures. They started performing together in DC in early 2016. Now they are based in New York. Eames has an MFA and makes paintings, curates stuff, and is part of Queer Trash. Cory makes software and music and software that makes music. Eames photo credit: Laylaa Randera, Cory photo credit: Renée Regan. More info: http://prtcl.cc/ and http://www.eamesarmstrong.com/

Envenomist (OH)
Some people equate Envenomist with science fiction film scores, and others envision solitary nocturnal travels through bleak urban settings, but a fundamental strength of Envenomist is that these illusory backdrops remain open to interpretation. Taking inspiration from industrial, ambient, and the kosmische music along with altered states of consciousness, the oceanic abyss, and deep space; David Reed has been producing desolate soundscapes under the Envenomist moniker since 2005. Highlights in the discography include Abyssal Siege, Bound Dominions, and Bleeding Out. More info: https://www.discogs.com/artist/362822-Envenomist

Eva Aguila (CA)
Eva Aguila is a sound and video artist from Los Angeles, CA. Aguila's background includes video, theater, and music. In 2005 she started her solo noise project called Kevin Shields where she initially drew her inspiration from pieces inspired by experimental filmmaker Stan Brakhage. Aguila's sound-accompanied gestured performance is both the source and the driving force behind her conceptual sound-making, which has been described as "Sheer cliffs of feedback ice, throbbing and grinding gear distortions, and angelic digital bursts slowly cancel each other out creating additives that are neither impatient nordead." Composed using magnetic tape manipulated through film-editing machines, the movement required to create these sounds is of central importance to Aguila, whose ideal audience and interaction is with listeners who enjoy the intensity. Aguila has toured extensively throughout Europe and the United States, and has performed in Mexico City, Japan and Hong Kong. She has also been involved in several other projects such as Caldera Lakes and the audio visual project Sporay with her husband Brock Fansler . Her past discography features releases on Ecstatic Peace, Deathbomb Arc, Blackest Rainbow and Weird Forest. In 2010 she started the experimental public access television show Experimental Half-Hour with Brock Fansler. Eva is also the founder and Artistic Director of Coaxial Arts Foundation, an artist run non-profit arts space dedicated to experimental sound, video and performance art. When is is not busy working on her own projects she can usually be found at Coaxial. More info: http://evaaguila.com/

Fecalove (IT)
Fecalove started around 2002 in Carrara, Italy. Total 90s Japanese/American harsh noise and early European power electronics worship. Co-founder of Turgid Animal Records with George Proctor/Mutant Ape in 2005. He released about 200 tapes, cdrs, cds, 7"s, 12"s etc on a million labels and played gigs in Italy, Germany, U.K., Norway, Denmark, France, China, Japan. Also active with Taeter, Splinter vs Stalin, Terminal Erection and many more projects. More info: http://tisbor.com

FILTH IS ROB BUTTRUM FROM DENTON TX.
UTILIZING VINTAGE ANALOG ELECTRONICS & TAPE MANIPULATION COMBINED WITH DIGITAL SYNTHESIS, FILTH CREATES A BLEND OF ESOTERIC POWER ELECTRONICS, HARSH NOISE, RHYTHMIC INDUSTRIAL & NOISY TECHNO.
VISUALLY & SONICALLY UNIQUE. Bandcamp: https://filthtx.bandcamp.com/
Fritz Welch (UK)
Fritz Welch is a drummer/percussionist/vocalist determined to stretch the escalator of possibilities into the bloodshot eye of results. He currently plays in EGO DEPLETION (w/ Adam Campbell), Lambs Gamble (w/ Eric Boros and George Cremaschi), Tripping Landlocked Infidels (w/ Kevin Shea) and has a duo with Olivier Di Placido. He is a former member of Peeesseye, Asparagus Piss Raindrop and Wi77!N6. A longtime Brooklynite of Texas origins, he is now based in Glasgow Scotland.... http://humansacrifice.net/

Gabie Strong (CA)
Gabie Strong is a California artist and musician exploring spatial constructions of degeneration, drone and decay as a means to improvise new arrangements of self-reflexive meaning. Strong uses sound performance, radio broadcasting, environmental installation, photography and video as a mediums for experimentation. Current themes in her work address the use of ritual acts and fetish collecting to expose constructions of feminine being. Strong has collaborated with Michael Morley (Gate), Christopher Reid Martin (Shelter Death), Ted Byrnes, Elaine Carey (Telecaves), Joe Potts (LAFMS), Renee Petropolous and Jorge Martin, amongst others. Her work has been presented at the Hammer Museum, MOCA, Kchung Radio, LAND AND SEA Oakland at BAMFA, Los Angeles Contemporary Archive, Printed Matter's LA Art Book Fair, Human Resources, SASSAS, High Desert Test Sites, and LACMA. In 2016 she started her experimental art and music label Crystalline Morphologies. Photo by Todd Cheney for the Hammer Museum. More info: http://www.gabiestrong.com/

Guillermo Pizarro (PA)
Guillermo Pizarro is a sound artist from Pennsylvania. He started experimenting in 2010 with prepared guitar/drone compositions, and has since then moved to experimenting with amplified objects, field recordings and foley techniques in his compositions. When he is not performing or recording, he is running the newly established Flag Day Recordings label, focused on bringing high quality experimental music that he helps co-produce at the recording studio he frequently works at. Bandcamp: http://www.guillermopizarro.bandcamp.com

Half Wire (NM)
Launched out of Santa Fe in 2001, The Late Severa Wires has created a new breed of music that can be distinctly known as their own. The Wires have gone on numerous tours covering the majority of the states drawing critical acclaim for their unique ability to push the boundaries of their instruments and music. Currently, due to geographic isolation, members of The Late Severa Wires are continuing their sonic experiments as the duos of Half Wire as well as The Wires Trio. Half Wire features Yozo Suzuki on guitars, and Carlos Santistevan on basses. More info: https://highmayhem.org/artists/music/late-severa-wires/

Hoor-paar-Kraat
Hoor-paar-Kraat is a sonic entity, operating under the sole direction of Anthony Mangicapra. More info: http://goateaterarts.com/

Jeremy Toussaint-Baptiste
Wormwatcher is Jeremy Toussaint-Baptiste and Val Bertelsen. More info: http://www.jeremytoussaintbaptiste.com/ and https://www.facebook.com/grizzlygeng

JK Williams (WA)
JK Williams is a composer, sound artist (if you squint) and improviser. Inspired by speculative fiction, history, and old paintings his practice incorporates field recording, electroacoustic improvisation, chance processes, synthesis and noise. He is currently based in Olympia, Washington. Bandcamp: https://bearspawrecords.bandcamp.com/album/the-antimatter-universe

Joachim Montessuis (FR)
Joachim Montessuis develops an experimental contextual practice mainly around voice, drone, noise and resonance since the early 90's. His vocal and guitar performative work explores various states of trance through the extreme potentialities of amplification and electronic transformations of screams, throat singing, and words. He has shown his work in many festivals around the globe and he has collaborated with more than 100 artists, including Charlemagne Palestine, Henri Chopin, Maja Ratkje, Master musicians of Joujouka, Phill Niblock...). He lives in Paris, teaches sound and intermedia art at HEAR.fr school of art in Strasbourg, and has operated the Erratum record label since 1993.
Kimberly
Kimberly is the recent work by San Antonio based performance artist Nicki Apostolow. Apostolow's foundations in movement and sound began to evolve into fitness performance art after opening an underground gym beneath an art gallery to supplement her training at a local wrestling academy. Apostolow utilizes fitness and theatrics in sound art made with found objects, a turntable, and manipulated vinyl records to create an erratically pulverized pastiche of sound. Performances teeter on physicality and fragility, delivering a raucous with a feminine touch. More info: https://vimeo.com/59321957

The Kingston Family Singers (MO)
The Kingston Family Singers are a Belleville, IL based music/sound collective working under the umbrella of multimedia/psychological research corporation MaxCorp Industries. The Kingston Family Singers past works have included live multi channel audio seminars; releases on FTAM, Brise-Cul, and Ballast (as well as the in-house MaxCorp Industries imprint), a West Coast tour with Peter J Woods, collaborations with Dave Stone, Alex Cunningham, NNN Cook; remix work for Angel Marcloid/Fire-Toolz, and live visuals and music video works via the MaxCorp Communications subsidiary. Audio works vary wildly, but generally emphasize tonal ruminations at or near the resonant frequency of sensory organs (i.e. the eyes; inner ear; olfactory nerve), alteration in the perception of room size and space, reprocessing of live radio broadcast, and controlled pan-frequential sound bursts. Bandcamp: https://maxcorpindustries.bandcamp.com/
Lars Åkerlund (SE)
Lars Åkerlund is a composer and musician based in Stockholm. He has made music collaborations with Eryck Abecassis, Leif Elggren, Dror Feiler, Flesh Quartet, CM von Hausswolff, Jean-Louis Huhta, Zbigniew Karkowski, Lise-Lotte Norelius, Johan Söderberg, Kent Tankred, Kasper T Toepliz, Dennis Wong and others. He founded Lucky People Center (LPC) with Johan Söderberg and Sebastian Öberg, PITT & the Dreamers, also with Zbigniew Karkowski and the LLLSD, an audio visual live performance group. More info: http://www.larsakerlund.com/

Latrines
Latrines is based in Brooklyn. More info: https://soundcloud.com/nick-klein
Leila Bordreuil + Tamio Shiraishi
Leila Bordreuil is a Brooklyn based cellist and composer from Aix-en-Provence, France. She works in the realm of Noise music, improvisation, New Music and sound-art. Her cello playing is often improvised, and mainly focuses on texture variations and a collage of phantom overtones and pitched utterances. Through an original vocabulary of extended techniques, preparations, and imaginative amplification methods, her instrument is used as an abstract resonant body to challenge conventional cello practice. Her composed works draw from a similar texture-based musical aesthetic, but also focus on the relationship between sound and space. In her site-specific electro-acoustic compositions, architecture is the foundation of the piece and musicality arises from an organized spacialization of sound. More info: https://www.leilabordreuil.com/
Biography of Shiraishi, Tamio:
late 1970's: started performing music in public, collaborated with various musicians (including Keiji Haino) at the club "minor" in Kichijoji, Tokyo.
in 1980's: in Tokyo, participated performances of "Homo-Fictus" (dramatic company), performed with various butoh dancers,,,,
1990: in USA. performed with various musicians at various places including "abc no rio" in NY.
1992: in Tokyo. often performed at Shinjuku-Nishiguchi station square (on the street).
1994: again in NY. started performing with many musicians (including "CrashWorship").
2008: started performing at subway stations in NY (still continuing)
recently:: continue performing with many artists (mostly musicians but also performance artists) mostly in NY..
More info: http://www.shiraishitamio.info
LoVid + Produce Consume Robot (NY)
LoVid and Produce Consume Robot present "Hive Mind", offering a peek into the future of augmented cooperative cognition. Two performers engage the audience in an on-stage discussion in which no words are spoken. Instead, the brain rhythms of each performer directly generate pulses of light and sound that synchronize the brain oscillations of viewers and create an immersive environment that transports the audience to altered states of consciousness. Based on neuroscientific research showing that rhythmic stimuli can entrain neuronal oscillations to alter perception, reaction times, and memory formation, Hive Mind uses the performers' live EEG and data processing to directly convey the performers' brain states. As one performer's brainwaves become the stimuli that entrains the other performer's brain patterns, a public brainwave-driven conversation unfolds between the performers. Together the performers and audience go on a visceral journey through different induced brain states and altered perceptions, ultimately considering broad implications for the future of human cognition and communication. Hive Mind builds on previous collaborations between Produce Consume Robot and LoVid that have been shown at Hyperplace Harlem, Science Gallery - Dublin, Harvestworks, Daejon Museum, and RIXC, among others. More info: http://produceconsumerobot.com/hivemind/

Negation
Negation began in New York City in 2012. Originally a platform for personal confrontation and social critique, the project has evolved into a more varied practice incorporating noise, action, research, and experience. Ascetic House released a version of the earliest recordings in 2015, followed by tours of the midwest, Canada, and the northeast. Commuter and Two Gifts were self-released in 2016. Forthcoming are releases with LITF, New Forces, and others. Photo Credit: josephalfredmauro.com. More info: https://soundcloud.com/negationnyc

New York Review of Cocksucking
The New York Review of Cocksucking was formed by Richard Kamerman & Michael Foster via Tinder and by way of Luxury Lounge, where after finally meeting at a noise show in someone's house they promptly decided to forgo all formalities associated with online dating and start a noise duo together instead. Bandcamp: https://michaelfoster.bandcamp.com/album/erectoacoustic-daycream

Race to the Bottom (CA)
Race to the Bottom is solo project of Los Angeles resident, Nial Morgan. Morgan creates sound works that are vulnerable in live settings and self-reflexive in process, using only the minimal procedure of an open tape loop, microphone, and field recordings. Performances utilize whatever means are ready at hand to create an "inside out" environment, a chance to open up unseen channels of communication between the audience and performer via the acoustics of the space. Live set: https://youtu.be/jdp83XzvY3U

Reagan Holiday
Reagan Holiday has been dead for several hundred years, returning to the mortal realm to provide a glimpse into the valley between earth and hell. She's a multimedia artist, creating veils of dissonance in an event that combines harsh noise with high drag. Buy her a drink if you really like the breakfast scene in Casper. More info: https://www.instagram.com/ReaganHoliday/

Rectrix (RI)
RECTRIX is the solo sound performance project of interdisciplinary artist Pippi Zornoza. Zornoza works with themes of horror and violence using samples, triggers, voice, constructed instruments and built environments that transform a grieving body into weaponized sound. She is a co-founder of the Dirt Palace feminist art collective in Providence Rhode Island. Formed in 2000, the Dirt Palace has since embodied the oxymoron of "Underground Institution". Zornoza has performed in the musical projects VVLTVRE, Bonedust, Worms in Women and Cattle, Master of Pussy, Sawzall, and Wold. Photo credit left: Omari Spears, Photo credit right: Sean B. Campbell. More info: http://www.pippizornoza.com/pippi/music/

Rubber (() Cement(CA)
Coalescing into a specific burning vision in 1994 Rubber (() Cement was put together as a direct idea for a super science future that will happen. The next technological breakthroughs are realized in a zero-tech way with the emulation of the unrealized 'next step' with the actual "vision" existing in the present (picture a cargo cult with stats on NASA industries). Historically Rubber (() Cement came out of a few shows: one in L.A. with Speculum Fight, coming in contact with a visual bleach blanded ketone solvent that your loose sockets are watching, while the individual mouse clicker would spray paint the entire facial/chest area with an acetone cleaner for maximum excitement-fury inner brain counter attack at any moment during a live escapade. The mainstage computer; CIMEVOX 30084, could shake and twirl it's reel to reels while playing some of the most tortured synthesizer sounds [like it's doing something "sounds"]. Wing motherboards were put on later to let it process more information, A newer head for the more developed shows are of a vat grown bat mixed with K+Ataphase protein in different amounts to make a larger efficient head. The Genetic Rack Pack is a conglomeration of different grown & manufactured mediums. A newer head, grown three times, produced triple bat faces with sensitive 'bat-radar' eye-ears and 'teeth' that are actual mini map memory sticks of every place that the Gene-rack has been, and the list of every note that was played at every show set. Out of the back of our main "walker" experiment are jetplane fuselage tines & sewage delivery cyst urn pipe that give the over large infant feet a "push". They unfortunately can only be operated in open air/outdoor venues. Rubber (() Cement has toured Europe twice,11 tours through Japan working with Hair Stylistics, Utah Kawasaki, CCCC, Hado-Ho, & Violent Onsen Geisha onstage sharing sound formulae together, and played coast to coast in the USA, repeatedly. Bay area shows have had them playing with Karla LaVey who is the talented organist from The First Satanic Church, top Northern Hemisphere witch, and daughter of Anton LaVey, the author of 'The Satanic Bible'. Two LPs & a dozen CDs make them fresh veterans skin removal and skeletroning for the top high speed electronic office or entertainment events in your neck of the Errth (their/your Popewaffen-run future home). Photo by Lars Knudson. More info: http://www.noisewiki.com/wiki/index.php?title=Rubber_O_Cement

Self Avoiding Walk
Self Avoiding Walk is mathbill, Bill Quattromani from Broad Channel, NY. He uses graphing calculators as a source in his performances. A long time collective member at abc no rio, he also books house shows at the Virgin Island and documents NYC noise shows on the mathgrind youtube channel. More info: https://www.youtube.com/watch?v=Dv7wjIoxtG0

Sleeping with the Earth (OR)
Bio: Sleeping with the Earth has been making deeply personal death industrial and power electronics since 1998. He currently lives in Portland, Oregon with his wife and four cats. Bandcamp: http://swte.bandcamp.com

Slow Owls (WI)
Slow Owls is the solo project of Mike Schauwitzer, half of Milwaukee's longest running noise duo Mildew. The project started around '007. Currently focusing on degrading and repeating sounds via hand made cassette loops. More info: https://m.facebook.com/Slow-Owls-190273301054578/

SOOT (CA)
Death industrial / dub unit from San Francisco. More info: http://black-horizons.com/

Sunken Cheek (NY)
Sunken Cheek is the primary noise effort of upstate NY artist, Weston Czerkies. The project began in 2010 as a side-obsession while playing in hardcore bands in Syracuse, NY until the entity took its definitive shape after moving to Ithaca in 2013. Sunken Cheek explores the themes of anxiety, paranoia and death through the use of electro-acoustics, tape loops, field recordings and voice. The music is tense and often haunting, intended to both indulge and purge a form of 'shadow self' in each performance. Czerkies has released myriad cassettes and 7"s under the moniker through working with many labels, including Aught\Void, Angst, Torn Light, Soft Exit, Turgid Animal, Unseen Force and Found Remains. He also curates releases under his own label, Prime Ruin, which focuses on releasing work from predominantly upstate and Syracuse-related artists. In addition to several other solo recording projects he currently makes up one half of the industrial duo, lace. Bandcamp: https://aughtvoid.bandcamp.com/album/tempered-exhaust

Tainted Pussy (CA)
More info: https://midorirecords.bandcamp.com/album/the-cause-of-claws
Termagant (TX)
TERMAGANT is an experimental noise project by Multi-media artist Liz Gomez (aka DROMEZ) from Austin, TX. More info: https://soundcloud.com/t-rm-g-nt
War Hippy (CA)
War Hippy is a Noise duo based out of Los Angeles consisting of Cole Miller (Vortal Curb/Human Hands/Toxic Loincloth) and Jess Coble (The Zero Collective/Island of Misfit Toys/NovaHead vs ChickenTron). Focusing on the moment of inspired creation amidst the rubble; following the destruction/decimation of all you have held dear. More info: http://warhippy.com
Don't miss next year's announcement!!!