NEWS FLASH - fundraiser launched!!
ENDE TYMES 777
performances by:

A Week Of Kindness
Aaron Dilloway
Architeuthis Dux
Blessed Thistle
Blue Shift
Boar
Bonnie Jones
Caroline Park & Asha Tamirisa
Cruor Incendia
Denis Rollet
Dreamcrusher
Dromez
Express
Francisco Meirino
Gaiamamoo
Geoff Mullen
Gerritt Wittmer
Hans Grusel's Krankenkabinet
High School Confidential
Hogareño
Howard Stelzer
Jenny Gräf
Joe Colley
Kazehito Seki
Kiran Arora
Kyle Eyre Clyd
Lingua Ignota
Mateo Galindo
Midmight
Novasak + Human Fluid Rot
Pod Blotz
Postcommodity
SADAF
Sarah Hennies
Serpentine
Suckling
Theories of Forgetting
Timeghost
Tourette
TRNSGNDR/VHS
Vertonen
Werewolf Jerusalem
Zaimph
WEEKEND PASSES and T-SHIRTS are available now on the FUNDRAISER
https://www.generosity.com/celebration-fundraising/ende-tymes-7-festival/
if you want to make a TAX DEDUCTIBLE DONATION - email bob@halfnormal.com
flyer artwork: Radoslaw Rakela :: http://xilolibros.blogspot.com
we need to expand our team so please email endetymes@gmail.com if you are interested in volunteering with all your heart & mind & boot soles
DAILY SCHEDULE (subject to change)
note that this is in Alphabetical Order - times will be posted later

APRIL 27 - 730pm doors - $15 members / $20 general
Issue Project Room (22 Boerum Pl)
featuring: 
Denis Rollet & Francisco Meirino
Jenny Gräf
Joe Colley
TRNSGNDR/VHS

APRIL 28 - 730pm doors - $20
Silent Barn (603 Bushwick Ave)
featuring: 
Architeuthis Dux
Blue Shift
Bonnie Jones
Cruor Incendia
Dromez
Francisco Meirino
Gerritt Wittmer 
Hans Grusel's Krankenkabinet
Hogareño
Kazehito Seki
Lingua Ignota
Mat Galindo
Theories of Forgetting
Vertonen
Zaimph

APRIL 29 - 730pm doors - $20
Silent Barn (603 Bushwick Ave)
featuring: 
A Week Of Kindness
Aaron Dilloway
Boar
Denis Rollet
Gaiamamoo
Geoff Mullen
Howard Stelzer
Midmight
Novasak + Human Fluid Rot
Postcommodity
Sarah Hennies
Serpentine
Suckling
Tourette
Werewolf Jerusalem

APRIL 30 - 630pm doors - $15
Silent Barn (603 Bushwick Ave)
featuring: 
Blessed Thistle
Caroline Park & Asha Tamirisa
Dreamcrusher
Express
High School Confidential
Kiran Arora
Kyle Eyre Clyd
Pod Blotz
SADAF
Timeghost

PRESS::
http://www.brooklynvegan.com/ende-tymes-fest-vii-lineup/
BIOS::
A Week of Kindness, one of experimental artist Sean E. Matzus' many monikers, blends manipulated field recordings with distorted vocals and junk metal sound intercessions to create eerie labyrinthine soundscapes. Originally hailing from Pennsylvania, Matzus is now based in Houston, Texas where he composes for his other well regarded solo-projects, Red Hook, Thewhitehorse, The Secret Geography, which range from spectral ambient drone to harsh noise walls. Additionally, Matzus collaborates with Richard Ramirez in the collective Black Leather Jesus, as well as Priest in Shit. More info: https://seanematzus.bandcamp.com/
Regarded as "one of the most creative, prolific, and revered figures in the Midwest American experimental/noise scene," Aaron Dilloway is an experimental musician whose work has utilized everything from field recordings and found sounds, to distorted tape loops, to vocal improvisation with contact microphones to create a paradoxical mix of foreboding and carnivalesque noise. Dilloway's tenure in the American experimental music scene has included, in addition to a prolific solo career, founding membership in the iconic noise / experimental band Wolf Eyes. Dilloway also owns and operates the long-running label Hanson Records, now based in Oberlin, Ohio. More info: http://hansonrecords.bigcartel.com/artist/aaron-dilloway
Architeuthis Dux is a noise unit from Austin, TX, perhaps best known for their heavily engaging, blistering harsh noise performances. Active since 2012, the duo of Kenny Brieger and Tony Duran have created an impressive oeuvre of mostly limited CDRs. Through over a dozen releases, Architeuthis Dux have created what one can only call "blissed out abrasions," traversing territory that comes off as an almost kraut-rock oriented synth meltdown glaze, topped off with lo-fi metallic clang, shrieking industrial grit, and just generally bleak and tortured surgical steel atmospheres. More info: http://architeuthisdux.bandcamp.com/album/corridos
Hailing from Providence, Rhode Island, Blue Shift is the moniker of Cybele Collins. Cybele produces scraping, screaming, and howling sounds with her violin, throwing the entirety of her body into the performance. Blue Shift's haunting thrashings evoke the feeling of being on the edge of a nervous breakdown. More info: https://soundcloud.com/blue-shift-c
Boar is the solo noise project of Alex Nowacki, who hails from Dubuque, Iowa. Boar creates immensely bleak and erratic harsh noise, with a touch of old-school power electronics hatred. Nowacki's most recent work has integrated amplified metal junk and rhythmic glitchy blasts of static drenched sound. More info: http://boarnoise.blogspot.com/
Bonnie Jones is both a performance artist and improvisational musician whose performances employ text, videos, and both composed and indeterminate sounds. Jones' work investigates fluidity and function in electronic noise and text, exposing the malleable nature of identity, history, and meaning. Currently residing in Baltimore, Maryland, Jones was born in 1977 in South Korea and raised on a New Jersey dairy farm, later earning her MFA from the Milton Avery School of the Arts at Bard College in 2012. Jones has received commissions from the London ICA, Walters Art Museum, Vox Populi and has presented her work extensively in the US, Mexico, Europe, and Asia. More info: https://bonnie-jones.com/
Caroline Park & Asha Tamirisa are from Providence RI. More info: http://blanksound.org/ & http://ashatamirisa.net/
Cruor Incendia is the moniker of Ryan Jencks, whose stint in the extreme music underground has included both membership in a stylistically wide-ranging array of projects, from the chaotically psychedelic Crash Worship, to the blackened haunting noise duo Deathroes, to the expansive atmospheric black metal band Dispirit, to collaborations with Zbigniew Karkowski, Joke Lanz, and members of Neurosis. Cruor Incendia illustrates Jencks' knack for interweaving cryptic dark industrial marches with blistering harsh noise assaults. More info: https://soundcloud.com/cruor-incendia
Denis Rollet is a sound artist based in Geneva, Switzerland. Rollet's work has included numerous live installations across Europe, often featuring homemade electronic devices, producing pensive experimental soundscapes. Rollet is also the co-founder of the well-known venue Cave12 in Geneva. More info: http://e--e.space/
Dreamcrusher: "NIHILIST QUEER REVOLT MUSIK" dupuis 2003. Wichita, Kansas. More info: https://dreamcrusher.bandcamp.com/
Dromez is the intermedia artist Liz Gomez of Austin TX. She has toured extensively across the United States producing menacing and erratic power electronics, effectively integrating feedback, junk metal, analog electronics, and loops, with her characteristic strident amplified shrieks. More info: https://soundcloud.com/dromez
Express is Patrick Cole and Jason Kudo from Brooklyn NY
Francisco Meirino, hailing from Lausanne, Switzerland, is a prolific experimental musician, whose work investigates the aesthetics of malfunctioning electronic equipment through the use of homemade electronic instruments, modular synthesizers, and taped field recordings. Meirino's work began in 1994, in which time he has recorded numerous releases under both his own name as well as under the moniker phroq, conducted over 200 live performances, as well as collaborated with the likes of veteran noise musicians Lasse Marhaug and Zbigniew Karkowski. In 2003, Meirino was recognized with an award for his contributions to electronic music composition by the Swiss Arts Council. More info: https://www.franciscomeirino.com/
Gaiamamoo is an experimental improvisation unit formed in 2012 by two musicians based in Tokyo. Shogo Haraguchi (fretless bass/pedals/iPad) and Mehata Sentimental Legend (voice/electronics). They started to play around Koenji, toured four northern and southern cities in Spain next year. And they extend their performance field not only at gig venues but also they performed at art galleries with visual video. Thorough the experience, they gradually made their own style and found a way out of sounds of Japanese origin which are flavors of Japanoise and Noh. Then creatively and experimentally shift them to fit their improvisation. In 2015, they were chosen by festival Sound Live Tokyo which is organized by PARC and performed on "New Sound Sanctuary" at SDLX, Tokyo Roppongi. Carried out their first NYC tour in 2016, and one of their performance "Live at The Sump" was streamcast on Ridgewood Radio show from NY. They appeared on Festes Majors Alternatives de Vallcarca 2016 (Barcelona, Spain) and 8 hours modern Japanoise marathon Festival GIGANOISE 2 (Tokyo, Japan, 2016). More info: https://gaiamamoo.wixsite.com/official
Geoff Mullen is an artist & musician from Providence, Rhode Island. Recent projects have included site-specific installation, sculpture, photography & video, collage, workshops, and performance. Geoff has presented work throughout the USA, Canada, and Europe—in venues ranging from concert halls, clubs, museums, galleries, basements, schools, streets, and city gardens. His music has been released on most available audio media, and he is the founder of Rare Youth, an independent record label dedicated to the support of local (RI) underground music. Geoff completed his MFA at Bard College, and has taught at the Massachusetts College of Art & Design and the Rhode Island School of Design (RISD). He is currently based in Philadelphia, PA. More info: http://www.geoffmullen.com/
Once described as "a uniquely unsettling mix of hurdy-gurdy carnival music and migraine-inducing electro-noise assault," Hans Grüsel's Krankenkabinet is a performance and experimental music duo (who will be doing a special trio set for Ende Tymes). Hans Grüsel's Krankenkabinet is an ever-changing woodgrain diorama of dark forest characters. Using electronics, field recordings, acoustic instruments, props, costumes, and scenery, the ensemble explores the lost Teutonic rites of the past, while stumbling into the failure of the future. More info: http://www.hansgrusel.net/
High School Confidential is Matthew Regula from Brooklyn NY. He is half of Telecult Powers, one third to one forth of the Hex Breaker Quartet and builds his own analog synthesizers. More info: http://thecreatorsproject.vice.com/blog/matthew-regulas-homemade-synthesizers-prove-diy-is-still-alive
Hogareño is a freely improvising noise duo hailing from Valparaiso, Chile, composed of Sebastián Tapia and Renato Ortiz. Hogareño's music integrates more conventional instrumentation like guitar, bass, horns, and drums with sound objects such as radios and televisions to create cacophonous sound collages. More info: https://hogareno.bandcamp.com/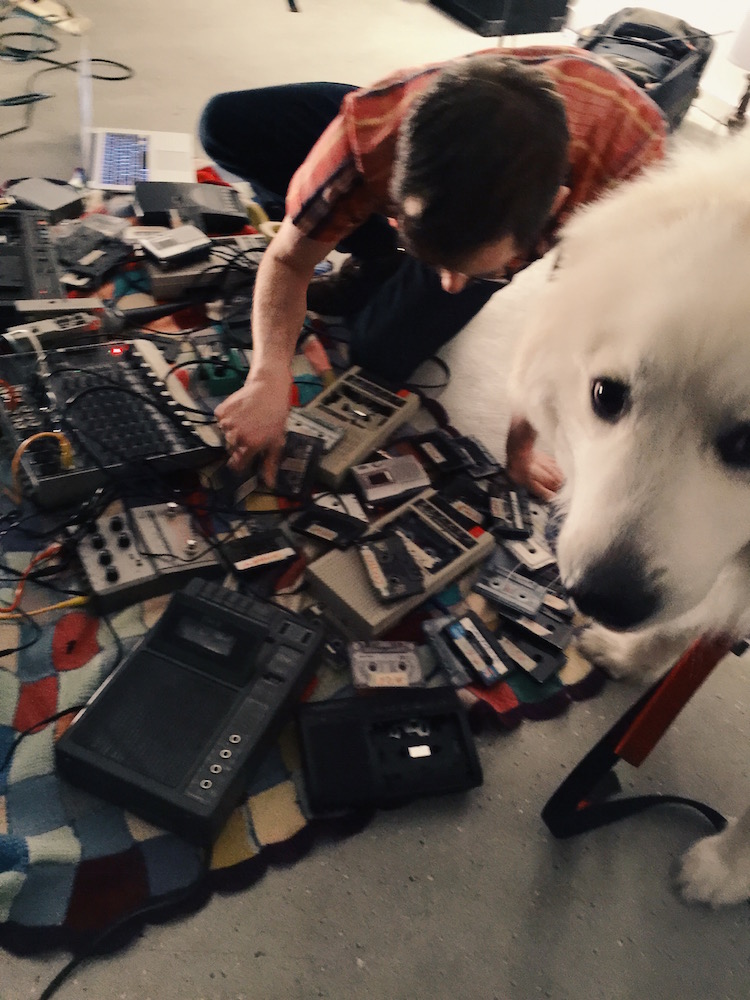 Howard Stelzer (b. 1974, New York) is a composer of electro-acoustic music. Almost all of his sounds are generated by, processed by, recorded onto and played back out of cassette tapes and consumer-grade tape players. He isn't sure how most of these things work. Stelzer operated the Intransitive Recordings label from 1997 until 2012. When he is not composing, Stelzer is a middle school math teacher in Lowell, MA, where he and his family live in a big room behind a power plant. https://cassettetapesuperstar.wordpress.com/
Jenny Gräf (US/DK) is a sound, video and performance artist who explores peripheral places and states through composition, improvisation and participatory works. In Gräf's music and art she invokes immersion and rupture to explore changing perceptions of diegesis and space, formal choices rooted in a deep interest in social roles and behavior. Gräf has produced sound and video work from projects she designed with people with Alzheimer's such as The Guitars Project and The Hilgos Project to explore agency within the context of memory loss. She has created a number of pieces that explore social behavior within the context of server/consumer dynamic in pieces like Threshold for Action and Sound, where the audience's menu selections generates a score for the musicians and food servers. In 2009 she formed The Stone Carving Oraclestra, which uses Experimental Archeology and the use of phonemes to channel sonic "readings" for members of the audience. In 2009 she premiered Proud Flesh, an experimental Western shot in the Badlands of South Dakota that contains an original score by Gräf and collaborator Chiara Giovando. In 2009 she was commissioned by Experimental Sound Studio in Chicago to create Osmosymbiotic Echo, a sound installation for the Chicago Lincoln Park Conservatory's Fern Room. More info: http://jennygrafsheppard.com/
Joe Colley is a visual artist and composer based in San Francisco, CA. He investigates audio phenomena, using field recordings and electronics. He records also under the name Crawl Unit. He is the founder of the label Povertech Industries. Joe has spent many years exploring the multiple conceptual possibilities of sound, through music production, installations, or collaborations with video artists, dancers, and even prisoners. His latest installations attempted to dissimulate the artist by concentrating on the instigation of unstable situations unique to the composition of random sound. Colley first began recording under the moniker Crawl Unit in 1993, and later dropped the name in favor of his given name in 2001. He's released numerous recordings for Auscultare, Antifrost, ERS, Manifold, C.I.P, and his own Povertech Industries. In 2006, Colley won an Award of Distinction for the 2006 Prix Ars Electronica in Digital Music for his album Psychic Stress Soundtracks. More info: https://www.discogs.com/artist/85775-Joe-Colley
Kazehito Seki
is a Voiz (= Voice Noise) performer hustling in between Noise and Hardcore, from Tokyo, now moving to Berlin. Self Toxication is his latest project focused on feedbacks. This was found accidentally when he was playing with a recorder. Berlin's cheapest lager made him brave enough to turn every gain to maximum. Then the (cheapest) earphones stinged his ears, a hurricane of feedbacks toxicated his brain like this:
https://goo.gl/9RtwxO (Tr.1 - 7)
Since 2006, Kazehito has been blasting his voice in numerous projects, bands with following keywords; cutups, experimental, grind, noiserock, sadcore, sludge, "Voiz" choir, and collaborations with, butoh, installations, videofeedbacks, etc. Besides Self Toxication, his basic solo Voiz project is with 1 or 2 microphones with NO-FX. His voice shows a wide spectrum as an instrument, oscillating between subtle sinewaves and brutal harsh noise in a microsecond.
He has performed in ART MEETING (2014, 16 / JP), LUFF (2015, 16 / CH), MultiMadeira (2015 / PT), FRIV Festival (2016 / PL), MultiDOM (2016-17 / ES, FR, GB, NL, GR, NO, DK), etc.
More info: https://soundcloud.com/unkodaisuki
Kiran Arora is based in Austin, Texas. He performs live with an array of guitars, tape recorders, and other electronic junk, and runs the label Idiopathic Records. More info: http://idiopathicrecords.tumblr.com/
Kyle Clyd (New Orleans.) I started this project here 12 years ago to move beyond my fears, grief, & trauma. Recently, I've used it to imagine a local & matriarchal mythology driven by cycles, non-seriality, producer ethics, radical blueness, the surreality of erotic capital, the sickness of non-monogamy, bi-carriers, the vampirism of chronic wellness, & incoherence as an invitation to linger. I've played & released in many highbrow & underground spaces and have felt so grateful for them all. More info: http://www.forcedexposure.com/Artists/CLYD.KYLE.EYRE.html
Lingua Ignota is the primary project of Kristin Hayter, an interdisciplinary artist, composer, and vocalist who began training classically at the age of ten. With a sonic palette drawing from early christian liturgical music as well as the visceral opacity of power electronics, harsh noise, and grindcore, Lingua Ignota is a self-flagellating evangelical monster espousing total nihilism through explicit puritanical dirges informed equally by pornogrind and Hildegard of Bingen. Central to the project is the deconstruction and appropriation of tropes of extreme music vernaculars that espouse brutality and the re-contextualization of these tropes as meaningful imagery for survivors of violence. More info: http://www.kristinhayter.com

Mateo Galindo is a mixed media artist working with film, video, sound and installation. His work is influenced by experimental and expanded cinema as well as Indigenous, Latinx and Xicanx art movements. He is also co founder of the curatorial platform, "Atomic Culture." Born in the southwest Galindo is inspired by his cultural traditions, deviations, as well as the intersection of ecology and identities that surround the southwest border. Born in Southern New Mexico, Mateo Galindo is currently living and working out of East Harlem, New York. Galindo is a second year MFA candidate at Hunter College and earned his BA in Media Arts from The University of New Mexico. He has performed at WhiteBox art space,Theatre for The New City and various venues around New York City. He is also a member of the large sound ensemble Death Convention Singers and has recordings released on independent labels. More info: http://mateogalindo.com
Midmight, born in Buffalo and now in San Francisco, is a musique concrète goon known for wearing a lampshade, playing a hockey stick bass, and "fearlessly toeing the line between deadpan anti-performance and austere, hyper-focused experimentation." More info:  http://resipiscent.com/midmight
Novasak is the main solo sound project of Todd Novosad from St Petersberg Florida. He uses homemade electronics and acoustic objects to make noise. He is the head behind the label Swamp Of Pus Quality Media. More info: http://www.novasak.com/
HUMANFLUIDROT is an experiment in otology and neurological stimuli focusing on the use of sound wave manipulation, volume and layering. More info: https://humanfluidrot.bandcamp.com/
Pod Blotz/Suzy Poling is a polymath and interdisciplinary artist researching the multi-dimensional interferences between optics, mirrors, sonic resonance, electrical synthesis, video experiments, human/alien identities and geological anomalies. Poling is from Michigan, studied at Columbia College in Chicago, lived in the San Francisco Bay Area for almost a decade and now resides in Los Angeles. Sonically, they have performed at the Contemporary Jewish Museum, Colour out of Space Festival, San Francisco Electronic Music Festival, Yerba Beuna Center for the Arts, Berkeley Art Museum, Human Resources, The LAB and Bemis Center for the Contemporary Arts. Pod Blotz has made releases with Chocolate Monk (UK), Nostilevo (LA), Conjunto Vacio (Spain), Clan Destine Records (UK) and Dungeon Taxis (NZ/NYC) and more. Poling is a recipient of the Mike Kelley Foundation Grant and was a nomineefor the SECA Award at the SFMOMA. More info: http://suzypoling.com/
Postcommodity is an interdisciplinary arts collective comprised of Raven Chacon, Cristóbal Martínez, and Kade L. Twist. Their work utilizes video, sculpture, noises, and time-based installation environments to engage the assaultive manifestations of the global market and its supporting institutions, public perceptions, beliefs, and individual actions that comprise the ever-expanding, multinational, multiracial and multiethnic colonizing force that is defining the 21st Century through ever increasing velocities and complex forms of violence. More info: http://postcommodity.com
SADAF H NAVA is a multidisciplinary performance artist, music producer and vocalist. Her focus is the body, its extensions, resistance and confinement. Her rough, industrial noise and haunting vocal improvisations focus on the political machinations of glamor and the construction and deconstruction of femininity. Sadaf's practice incorporates a variety of mediums, often using formal explorations of movement and materiality through a dual urge for confrontational experimentation and narrative cohesion. More info: http://sadafhnava.com
Sarah Hennies (b. 1979, Louisville, KY) is a composer and percussionist currently residing in Ithaca, NY. Her work is primarily concerned with an immersive, psychoacoustic presentation of sound brought about by an often grueling, endurance-based performance practice that Nathan Thomas of Fluid Radio described as "a highly sophisticated and refined performance technique...that starts and ends with listening and encourages a different way of listening from its audience." She received her M.A. in percussion from the University of California-San Diego in 2003 where she studied with renowned percussionist Steven Schick, and is currently a member of Meridian, a percussion trio with Tim Feeney and Greg Stuart. Prior to relocating to Ithaca, Hennies was based in Austin, TX, for ten years where she performed with the Austin New Music Co-op, The Weird Weeds and a variety of other projects.
In 2016 Sarah was chosen as a fellow in music/sound from the New York Foundation for the Arts. Her work as both composer and performer can be heard on a wide variety of labels including Quakebasket, Senufo Editions, Consumer Waste, Astral Spirits, Accidie, and Quiet Design. In 2013 Hennies also founded the record label Weighter Recordings for releasing her own work and other new and unusual music by living composers. More info: http://www.sarah-hennies.com/
SERPENTINE is:
- Monica Isabel Sanchez ( Tissa Mawartyassari / Black Leather Jesus).
- Dan Miñoza (Black Leather Jesus / (((mezrab)))).
SERPENTINE formed in Houston, TX. in the fall 2014.
The experimental noise duo have released three full length releases
and have toured the U.S. extensively. Listen: https://serpentinecult.bandcamp.com/
Based in Brooklyn, NY, Suckling is the tape collage outline of Rich Samis (The Men) and Kyle Keays-Hagerman (Mercury Living) in which every moment of sound is deformed and manipulated into a cathartic response of their immediate surroundings. Each moment of their sophomore release makes the listener increasingly uncomfortable with their control over pulsing loops and reverberation. Soundtrack of unease akin to the early works of the Broken Flag roster or early 80's M.B., Suckling have perfected the classic low end sound of authentic industrial composition.
Theories of Forgetting is the collaborative project of Scott Reber and Gordon Ashworth, based in Providence, Rhode Island and Portland, Oregon, respectively. Those familiar with Reber and Ashworth's other musical endeavors will know what to expect from this duo. Both Reber and Ashworth are prolific musicians in their own right: Reber's Work/Death unleashed its first recordings of shimmering harmonic sounds awash with harsh static waves in 2004; Ashworth has masterminded or been involved in numerous other projects ranging from austere and engrossing harsh noise (Oscillating Innards), to blackened death metal (Knelt Rote), to resplendent musique concrète (Concern). More info: https://www.discogs.com/artist/283725-WorkDeath & https://gordonashworth.bandcamp.com/
TIMEGHOST collapses boundaries between performance art & electronic music through guided meditation, mutated song forms, and physical endurance. Performances utilize light-reactive synthesis and sensors pierced through the skin. The newest LP, "Cellular" is available from Load Records and Chondritic Sound. Timeghost's Adam Morosky has collaborated with members of This Heat, The Residents, Forcefield, and is a former member of Lazy Magnet.
More info: http://loadrecords.com/bands/timeghost
Tourette is the solo harsh noise project of Parisian artist Benjamin Clément. Clément's work is turbulent, employing sharp cut-up electronic and junk metal sounds to contrast with beautiful, darkly passionate and subdued melancholy soundscapes. Thematically, Tourette embraces unique somnolent atmospheres touching on hints of erotica and poetry. A veteran of the Paris harsh noise scene, Clément's most recent release as Tourette is Proximité du Murmure, a continuation of his juxtaposition of sublime melodies and chaotic noise assemblages.
TRNSGNDR/VHS is the solo project of Alexandra Brandon, currently based in Baltimore, MD. They began performing and recording under the moniker TRNSGNDR/VHS in early 2015, with a sound combining noise and pop music sampling, thematically addressing questions of gender, race, and identity. TRNSGNDR/VHS has been described as "a hot mess of Nine Inch Nails pulse-pop percussion, Swans-like lurch, and power electronics screech and hiss, all artfully arranged and somehow more desperate and unpretentious than those two art-bro heroes' jams." To date they have released one EP Condominium, with a new record expected on Ehse Records this year. More info: https://trnsgndrvhs.bandcamp.com
Vertonen has been the solo project of Blake Edwards since 1991. His most recent work has focused on reappropriating and manipulating dead and dying media to accentuate communication and its various limitations / frequent failings. More info: http://cipsite.net
Werewolf Jerusalem is the solo project of Richard Ramirez. Originally from Houston, Texas, Ramirez has recorded and performed both as a solo artist and as part of several groups in Houston's noise scene, including Black Leather Jesus, Priest in Shit, An Innocent Young Throat-Cutter, House of the Black Death, Martyr of Sores, and Last Rape. Werewolf Jerusalem is distinctive in its minimalism, utilizing almost exclusively low frequency static sounds to create paranoiac atmospheres. Ramirez has been active since 1989, has collaborated and released splits with artists such as Merzbow, Emil Beaulieau, and MSBR, and has also toured the United States, Japan, Canada, and Europe. More info: https://www.discogs.com/artist/219893-Werewolf-Jerusalem
Zaïmph is the solo project of ambient noise artist Marcia Bassett. Although legendary for white-hot guitar and vocal brutality, Zaimph's recent recordings and performances infuse cracked-raga song structures with dense electronic and synthesiser drones to create soundscapes where a lurking apocalypse is eclipsed by shimmering, meditative beauty. As a co-founder of Philadelphia's shambolic psychonauts un and tectonic drone pioneers Double Leopards, Bassett is deeply entwined with the American noise underground, and has mapped regions still only dimly understood by subsequent sonic travelers. From 2003-2008, Bassett joined Matthew Bower in Hototogisu, where her mastery of cacophonous eardrum shred achieved monolithic proportions. During the same period, she explored American underground psychedelic folk-improv music with Steve Gunn and Pete Nolan in GHQ, and with Tom Carter in Zaika. Zaïmph CDs, LPs and tapes have appeared on independent labels such as Gift Tapes, Hospital Productions, W.M.O.r, Utech Records, Gypsy Sphinx, Volcanic Tongue and No Fun records. Bassett has released numerous Zaïmph recordings on her own Heavy Blossom imprint. In 2012, Bassett retired Heavy Blossom and started Yew, a label showcasing Zaïmph and other aesthetically allied projects. In addition to her work with Zaïmph, Bassett is a frequent collaborator with a wide spectrum of musicians including Helen Espvall (Espers), Samara Lubelski, Margarida Garcia, Jenny Graf (Metalux), Taylor Richardson (Infinity Window), and Barry Weisblat. More info: http://zaimph.com